Company Information

Webike Thailand, a branch of Webike Japan, the biggest motorcycle parts and accessories shopping website in Japan, was founded in 2000. We are a channel between Webike Thailand and Webike Japan to assist Thai customer on thai.webike.net as well as updating motorcycle news from around the world.
We have, a 19 years in motorcycle parts and accessories business, headquarter located in Japan, making us a reliable source for global market, especially in Japan that our shop are well-known throughout the country. More importantly, we are also a sponsor for Japanese racing team like Webike Team Norick Yamaha, Webike SRC Kawasaki Trickstar, T.Pro Innovation, NTS.T Pro Project, RAMA Honda by NTS T.Pro Ten 10 and Team KAGAYAMA SUZUKI.
Besides motorcycle news and running a website, we are also aiming to export made in Thailand products to global market via our website. All rider around the world will be able to find high quality and high performance Thai made products with such ease. Feeling secured when shopping and high quality genuine products that the customers get made us an authentic site, which affects the potential of customer's decision on purchasing tremendously.

Company's Goal
Nowadays, motorcycle user in Thailand has been continually increasing as a consequence of environmental changing that benefits motorcycle over car, especially in a metropolitan like Bangkok that always facing traffic problem. The small body of motorcycle is more agile than a car in this kind of situation. Apart from convenient commuting, having a bike and customising it is one's personal preferences to fulfill their happiness.
Thai motorcycle parts and accessories shop may seems to have a various type of goods, however, it still is far less comparing to global market, and cannot satisfy the needs and uniqueness of Thai riders. Mr. Shinano Koki, the founder of Webike Japan, who has been running the website since 2000, sees what Thai market is lacking and decides to establish Webike Thailand to be a channel for Thai riders, which enables them to find various and unique goods from global market through our website despite their motorcycle type.
Our CEO and Managing Director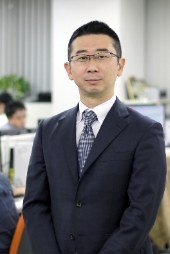 Shinano Koki
Webike Group CEO
The day I made my decisive decision on establishing Webike was when I was 28 years old. Together with my another friend, we rent a small apartment and worked tirelessly every day. Time flies, and now my business has grown more than I can imagine. There are three branches in Taiwan, Vietnam and Thailand. I am grateful for my 28 years old at that time for making this decision in choosing to do what I love and not giving up when facing difficulties. I love motorcycle and understand what riders like and need, which is the reason why I want to expand Webike network worldwide in order for riders around the world to be able to find what they like.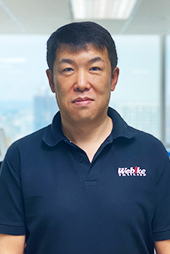 Tatsuya Koga
Webike Thailand Managing Director
I have been familiar with motorcycle since I was a boy. The time I spent on them was much more than hanging out with friends at game center or doing club activity after school like other Japanese kids. I can still recall the image of me using a chopstick to nip food with my dirty hand darken and smell of engine oil just like it is yesterday. This would be my 17th year after I moved to Thailand. The culture seemed to be different than Japanese at first, but now I am used to it. I have met and spent time with a lot of Thai riders. What they like was no different than Japanese riders, except that the market was still lack of unique stuffs.  
I considered meeting with Mr. Shinano Koki one of the best thing that had happened in my life. I had a chance to help Webike Thailand to become a well-known website in Thailand. Soon we might be able to see a new style of customized motorcycle running around the city.

MANAGEMENT PHILOSOPHY
Philosophy is essential in working place to keep everyone's attitudes and values as one. According to the survey, average company only has 30 years of business. That will not happen to our company. We will build up this company to survive even in the next 1000 year. In order to do that, our philosophy has to be inherited by our children and grandchildren that wants to become like us. This company will do what other companies cannot.
Harmony
Simply getting along in daily life is not harmony. In working place there are a diversity of age, sex, religion. To acknowledge, cherish, understand and forgive each other is the real harmony. Therefore, self-dignity should be kept and respect should be shown. Instead, make an irreplaceable fellow to spend time together and enhance each other just like what Prince Shotoku said. It is not a competition nor spoiling, but to help each other take a higher step together.
Fired Up and Show Guts
Our society has entered a golden age of digital era. However, that is just a part of development. Technology cannot do everything as we wish. In the end, our spirit and guts is what we need to accomplish the objective. In critical moment, the decision cannot be made by a machine or computer, but ourselves.
Webike does not consist with specialist from every field. Instead, we are the center of those who wish to improve themselves, eager to learn and ready to move forward together.
Dignity Comes with Honesty
Aiming for profit only is not what business really is. We should not do anything that bring shame to ourselves. Money is not important than our pride. Being a good company required honesty to customer, employee, as well as employee's family.
In reality, money is also a major factor in our life. Just like what they said "a pouch cannot stand upright by itself." However, we also have to keep our philosophy in mind and be honest to everyone.
Never Stop Improve Yourself
There are no end for human's potential. Our brain has the ability to learn everything new at any moment. That is why we should not stop improving ourselves. Our legs should keep on stepping forward while strengthen your body and mind. Do you still remember the day you finally be able to ride a two wheels bicycle? Do you remember how happy you are at that time? This can also apply to your working and daily life. What we do not know, we study until we understand it clearly. Once we finally get it, it will surely bring you happiness. Everyday when you wake up in the morning, you can look in the mirror and see a new you in there.
WEBIKE HISTORY
Company Name
Webike (Thailand) Co.,Ltd.
Business Location
Thailand

74/1 Soi Ramkhamhaeng 4, Ramkhamhaeng Rd.,
Suanluang, Suanluang, Bangkok 10250 Thailand (Head Office)

Japan Headquarters

Yubinbango154-0005 Setagaya-ku, Tokyo Mishuku 1-13-1 Toei Mishuku building 6F

Yokohama Plant

Yubinbango 227-0034 Yokohama City, Kanagawa Prefecture, Aoba-ku, Katsuradai 1-5-6

Yokohama fulfillment center

Yubinbango 246-0008 Yokohama City, Kanagawa Prefecture, Seya-ku Gokanme cho 1-4 Meguro  warehouse building B

RIVERCRANE VIETNAM CO., LTD]

Unit 2001, Floor 20, Havana Tower, 132 Ham Nghi Street, District 01, Ho Chi Minh City Vietnam

EVERGLORY MOTORS CO., LTD

Room 108 No.1, 1Nam Tai Road, Taishan District, New Taipei-City

Webike Philippines Consultancy Services, Inc.

ROOM NO. 4, APRIL BLDG. 840 A.S FORTUNA STREET, BRGY. BANILAD, MANDAUE CITY, CEBU, THE PHILIPPINES 6014

PT. BINTANG DAYA INDONESIA

JL. TB. SIMATUPANG KAV.36 CILANDAK BARAT, CILANDAK JAKARTA SELATAN DKI JAKARTA

广州威百客电子商务有限公司

广东省广州市越秀区华乐路53号1720房

RIVERCRANE ASIA CO., LIMITED

香港特別行政区 九龍荔枝角長沙灣道833號11樓 1101室

Euroe-Com Trading GmbH

Franz Schubert Strasse 17, 2345 Brunn am Gebirge, Austria

Establishment
October 18, 2015
Capital
2 Million Baht
Number Of Employees
10 Staffs (January 1, 2021 currently)
CEO and Board Members
CEO: Koki Shinano

Managing Director: Tatsuya Koga

Director: Surachai Charusakulariyakul

Business
E-commerce

Accessories online store planning construction, management, Internet advertising and marketing business

Amount of sales

14,740,000,000¥ (FY2021)

11,900,000,000¥ (FY2020)

10,117,000,000¥ (FY2019)

9,295,000,000¥ (FY2018)

8,690,000,000¥ (FY2017)

8,310,000,000¥ (FY2016)

7,710,000,000¥ (FY2015)

6,560,000,000¥ (FY2014)

5,310,000,000¥ (FY2013)

4,420,000,000¥ (FY2012)

Number of oganizations
National motorcycle supplies Association (JMCA)
National E-commerce Council (EC Council)